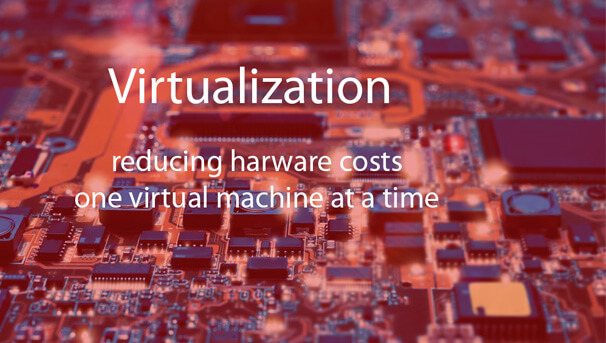 Virtualization allows you to run all your applications on fewer physical servers, giving your business both financial and technical benefits. As our dependence on IT continues to grow, so does the amount of space, time and effort needed to support it. Virtualization allows businesses to really invest in their server technology and use them to maximum efficiency while the number of physical servers is greatly reduced.
Virtualization vs. Cloud Computing
The word "cloud" is often thrown around as an umbrella term, while "virtualization" is often confused with cloud computing. Although the two technologies are similar, they are not interchangeable, and the difference is significant enough to affect your business decisions.
Virtualization
Virtualization is software that separates physical infrastructures to create various dedicated resources. It is the fundamental technology that powers cloud computing.
"Virtualization software makes it possible to run multiple operating systems and multiple applications on the same server at the same time."
"It enables businesses to reduce IT costs while increasing the efficiency, utilization and flexibility of their existing computer hardware."
VMWare
VMware is the industry's first full infrastructure virtualization suite that allows enterprises and small businesses alike to transform, manage and optimize their IT systems infrastructure through virtualization. VMware Infrastructure delivers comprehensive virtualization, management, resource
Optimization, application availability and operational automation capabilities in an integrated offering.
Hyper-V
Hyper-V is a hypervisor-based virtualization technology for x64 versions of Windows Server 2008. The hypervisor is the processor-specific virtualization platform that allows multiple isolated operating systems to share a single hardware platform.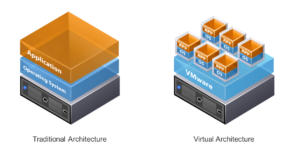 Cloud Computing
Cloud computing is providing developers and IT departments with the ability to focus on what matters most and avoid undifferentiated work like procurement, maintenance, and capacity planning. As cloud computing has grown in popularity, several different models and deployment strategies have emerged to help meet specific needs of different users. Each type of cloud service, and deployment method, provides you with different levels of control, flexibility, and management. Understanding the differences between Infrastructure as a Service, Platform as a Service, and Software as a Service, as well as what deployment strategies you can use, can help you decide what set of services is right for your needs.
There are three main models for cloud computing. Each model represents a different part of the cloud computing stack.
IaaS (Infrastructure-as-a-Service)
PaaS (Platform-as-a-Service)
SaaS (Software-as-a-Service)
IaaS (Infrastructure-as-a-Service)
Infrastructure as a Service, sometimes abbreviated as IaaS, contains the basic building blocks for cloud IT and typically provide access to networking features, computers (virtual or on dedicated hardware), and data storage space. Infrastructure as a Service provides you with the highest level of flexibility and management control over your IT resources and is most similar to existing IT resources that many IT departments and developers are familiar with today.
Leading IaaS providers include Amazon Web Services (AWS), Windows Azure, Google Compute Engine, Rackspace Open Cloud, and IBM SmartCloud Enterprise.
PaaS (Platform-as-a-Service)
Platforms as a service remove the need for organizations to manage the underlying infrastructure (usually hardware and operating systems) and allow you to focus on the deployment and management of your applications. This helps you be more efficient as you don't need to worry about resource procurement, capacity planning, software maintenance, patching, or any of the other undifferentiated heavy lifting involved in running your application.
SaaS (Software-as-a-Service)
Software as a Service provides you with a completed product that is run and managed by the service provider. In most cases, people referring to Software as a Service are referring to end-user applications. With a SaaS offering you do not have to think about how the service is maintained or how the underlying infrastructure is managed; you only need to think about how you will use that particular piece software. A common example of a SaaS application is web-based email where you can send and receive email without having to manage feature additions to the email product or maintaining the servers and operating systems that the email program is running on.
Cloud Computing Deployment Models
Cloud
A cloud-based application is fully deployed in the cloud and all parts of the application run in the cloud. Applications in the cloud have either been created in the cloud or have been migrated from an existing infrastructure to take advantage of the benefits of cloud computing.
Hybrid
A hybrid deployment is a way to connect infrastructure and applications between cloud-based resources and existing resources that are not located in the cloud. The most common method of hybrid deployment is between the cloud and existing on-premises infrastructure to extend, and grow, an organization's infrastructure into the cloud while connecting cloud resources to internal system
On-Premises
Deploying resources on-premises, using virtualization and resource management tools, is sometimes called "private cloud". On-premises deployment does not provide many of the benefits of cloud computing but is sometimes sought for its ability to provide dedicated resources. In most cases this deployment model is the same as legacy IT infrastructure while using application management and virtualization technologies to try and increase resource utilization.