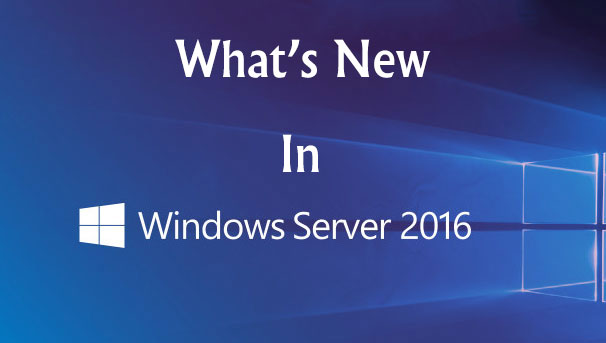 Windows Server 2016 is the cloud-ready operating system that supports your current workloads while introducing new technologies that make it easy to transition to cloud computing when you are ready. Windows Server 2016 delivers powerful new layers of security along with Azure-inspired innovation for the applications and infrastructure that power your business.
While nothing was removed from Windows Server Standard, new features were added and some of those new features are now exclusive to Windows Server Datacenter.
New Features to Standard:
Windows Containers
Containers allow the user to sandbox applications for testing and more without affecting the OS or system at large. It's like a quarantine for software. As of now, there are two different container types: Windows Server Container and a Hyper-V Container. The latter of the two will run in a highly optimized virtual machine. Containers will consist of several layers. For example, once a container has been started, all write actions (file system modifications, software installations) will be captured in a sandbox layer. Containers will make applications completely portable and allow them to run anywhere. Think of what this could do from a developer's standpoint!
Key features include:
Support for web sites and applications using HTTPS
Nano server can host both Windows Server and Hyper-V Containers
Ability to manage data through container shared folders
Ability to restrict container resources
Nano Server (minimal install)
Until now, Nano Server only supported the roles of Hyper-V and Scale-Out File Server (SOFS). The new preview now adds support for DNS server and IIS. The following were also added:
MPIO
VMM
SCOM
DSC (Desire State Configuration) push mode
DCB (Data Center Bridging)
Windows Server Installer
WMI provider for Windows Update
Management has also been improved. You can now edit and repair the network configuration through the Recovery Console, and a new PowerShell module can be used to build Nano Server images.
Nano Server now has an updated module for building Nano Server images, including more separation of physical host and guest virtual machine functionality as well as support for different Windows Server editions.
There are also improvements to the Recovery Console, including separation of inbound and outbound firewall rules as well as the ability to repair the configuration of WinRM.
New Features specific to Datacenter:
Storage Spaces Direct
Storage Spaces Direct enables building highly available and scalable storage using servers with local storage. It simplifies the deployment and management of software-defined storage systems and unlocks use of new classes of disk devices, such as SATA SSD and NVMe disk devices, that were previously not possible with clustered Storage Spaces with shared disks.
Storage Replica
Storage Replica enables storage-agnostic, block-level, synchronous replication between servers or clusters for disaster recovery, as well as stretching of a failover cluster between sites. Synchronous replication enables mirroring of data in physical sites with crash-consistent volumes to ensure zero data loss at the file-system level. Asynchronous replication allows site extension beyond metropolitan ranges with the possibility of data loss.
Shielded VMs
Windows Server 2016 provides a new Hyper-V-based Shielded Virtual Machine to protect any Generation 2 virtual machine from a compromised fabric. Among the features introduced in Windows Server 2016 are the following:
New "Encryption Supported" mode that offers more protections than for an ordinary virtual machine, but less than "Shielded" mode, while still supporting vTPM, disk encryption, Live Migration traffic encryption, and other features, including direct fabric administration conveniences such as virtual machine console connections and Powershell Direct.
Full support for converting existing non-shielded Generation 2 virtual machines to shielded virtual machines, including automated disk encryption.
Hyper-V Virtual Machine Manager can now view the fabrics upon which a shielded virtual is authorized to run, providing a way for the fabric administrator to open a shielded virtual machine's key protector (KP) and view the fabrics it is permitted to run on.
You can switch Attestation modes on a running Host Guardian Service. Now you can switch on the fly between the less secure but simpler Active Directory-based attestation and TPM-based attestation.
End-to-end diagnostics tooling based on Windows PowerShell that is able to detect misconfigurations or errors in both guarded Hyper-V hosts and the Host Guardian Service.
A recovery environment that offers a means to securely troubleshoot and repair shielded virtual machines within the fabric in which they normally run while offering the same level of protection as the shielded virtual machine itself.
Host Guardian Service
Host Guardian Service support for existing safe Active Directory – you can direct the Host Guardian Service to use an existing Active Directory forest as its Active Directory instead of creating its own Active Directory instance.
An additional Software Assurance benefit has also been added. Prior to February 2016, there was no way to leverage a Windows Server license covered with Software Assurance toward an Azure scenario. Now, Software Assurance on Windows Server Standard or Datacenter will provide preferential pricing on either two virtual machines in Azure of eight cores or less or one virtual machine in Azure of 16 cores or less. This could save thousands of dollars per year for those who are continually running higher tiered virtual machines in Azure. The virtual machine(s) covered by this benefit must be designated using PowerShell when uploading their Windows Server images up to Azure. At this point, it's worth renewing any Software Assurance that you may have on Windows Server even if you're not going to use it, solely to get a discount on virtual machines in Azure.
Windows Server 2016 editions have been streamlined to better support today's changing business requirements. The following editions of Windows Server 2016 are available:
Windows Server 2016 Datacenter: For highly virtualized datacenter and cloud environments.
Windows Server 2016 Standard: For physical or minimally virtualized environments.
Windows Server 2016 Essentials: For small businesses with up to 25 users and 50 devices. Essentials is a good option for customers using the Foundation edition, which is not available for Windows Server 2016.
Windows Server 2016 MultiPoint Premium Server: Enables multiple users to access one computer; available only for academic licensing.4
Windows Storage Server 2016: For dedicated OEM storage solutions. Available in Standard and Workgroup editions through the OEM channel.
Microsoft Hyper-V Server 2016: Free hypervisor download.