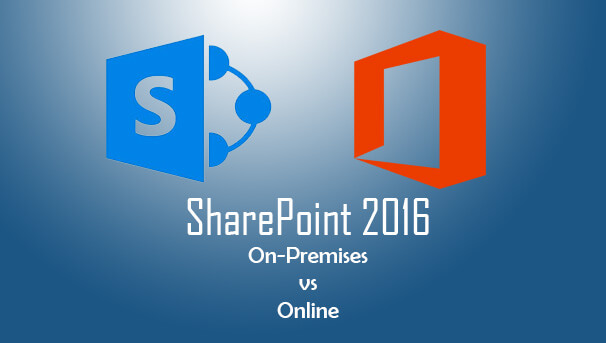 Overview of the primary differences between SharePoint Online and SharePoint 2016 On Premises. So let's begin by taking a look at the different environments needed to run Online vs On Premises.
In the past, there have been some major differences between SharePoint Online and SharePoint On Premise. For one, SharePoint Online used to trail the version of SharePoint that was available On Premise. For example, when SharePoint 2010 came out, it took SharePoint Online a painfully long time before it became SharePoint 2010.
With each update and new release, SharePoint Online for Office 365 has grown in strength while keeping its lean (Cloud-based infrastructure) quality that attracted organizations in the first place. That said, the 2016 On-Premises version is certainly no slouch. It's set to provide improved reliability and the peace-of-mind that comes with knowing your corporate data is safe and secure on-site. And, with the new hybrid functionality and compatibility of Office 365, there's likely a choice to suit any demand.
What's New in SharePoint 2016?
User Interface changes have been created to make the look and feel of SharePoint 2016 almost identical to Office 365 so there's parity when navigating both. This is salient when we consider the new hybrid possibilities with SharePoint 2016 and Office 365, because making SharePoint 2016 work with Office 365 is a major update.
For example, with SharePoint 2016 Sites can be redirected to your OneDrive for Business in Office 365.
To start, it might help if we build a quick timeline of recent history:
SharePoint 2007: Released in 2006
SharePoint 2010: Released in 2010
Office 365: Released in 2011 (With SharePoint2010 interface)
SharePoint 2013: Released in 2012
Office 365 Upgraded: 2013
SharePoint 2016 : Released in 2016
With each release, Microsoft has added new features and rebuilt others. A quick summary of these is as follows:
SharePoint 2007
Introduction of Excel Services
Introduction of Content types
Introduction of SharePoint Designer (Post FrontPage era begins)
SharePoint 2010
Introduction of the "ribbon"
Early social networking features
Overhaul of the Shared Service Providers in favor of Service Applications and the ability to pool them
Sandboxed solutions and client access to the API
PowerShell support
Two way BCS
SharePoint 2013
Cross Browser Support
Drag/drop Uploads
More social features
OneDrive integration as a replacement for MySites
Addition of the audit centre
Re-engineered search facilities
SharePoint 2016
App Launcher & Cloud UI
OneDrive for Business
Search
Sharing & Durable Links
Large file support
SharePoint Environments
One of the most significant differences is the impact on internal resources. On-premise solutions require an internal IT support structure including people, hardware and software, or the use of a Managed Service Provider (MSP). Cloud based solutions reduce the dependency on internal resources and typically provide better globally deployed failover and redundancy features.
On Premise Solution
Cloud Solution
SharePoint farm hosted locally (with in corporate datacenter)


IT team responsible for farm, patching and change control


On-premise Active Directory is required for Authorization


Full access to use and customize any SharePoint feature as needed
SP farm resides within the Microsoft Data Centre Network


Microsoft host and patch the environment


Microsoft SLA commits to 99.9% availability


Microsoft's global network of data centers provides reduced latency and high network bandwidth


Support for Client Side Object & App model
Feature Comparisons
While the basic functionality of SharePoint remains the same, there are a number of significant feature differences between On Premises and Online
| Category | On Premises | Online |
| --- | --- | --- |
| Cost | Purchase/Maintain Hardware, Software licenses etc. (One time investment for long period) | Annual subscriptions for Office 365 Plans billed on a per user basis. (Recurring Cost) |
| Infrastructure deployment & maintenance | IT Support Team to deploy/manage farm, latest updates or patches not always deployed. | Microsoft manages the environment and ensures all updates and patches are deployed. |
| Product Features | Support for enterprise feature, Office web App (OWA) needs to be installed | Missing or limited features, pre-configured features |
| Customization Options | Full support for server side code and client side code, App usage from OAC and SAS | Full Support- Client Side, Limited Support-Server side, Can use Apps from OAC or SAS |
| Security | Dependence internal capabilities | Microsoft DataCenter meets industry-specific security standards |
| Development | Full trust solution can be deployed- Features in farm solutions can have scope as wide as the site collection, web application, or whole farmPublic facing website with much of customization is possibleCustom "Managed Path" allowedMore control can be delegated to power users | Full trust solution cannot be deployed- Only Sandbox solutions possible with scope up to the site collection levelPublic facing website with much of customization is not possibleCustom "Managed Path" allowedMore control cannot be delegated to power users and maxim privilege level is Site Collection level. |
Pros and Cons
SharePoint On Premises
Pros
Control Performance
Scale Up and Scale Out
Reduces Bandwidth requirements
Fully Customizable
Full Server and SQL Database
Migrate as Needed
Seamless Single Sign on with Corporate Active Directory
Cons
Cost of internal resources (staff, hardware, software, etc)
Additional Geographic redundancy costs
Disaster Recovery dependent on internal capabilities
Scale Up/Out Cost( SW/HW)
Patching Servers/farms
Extra configurations for External Collaboration
SharePoint Online
Pros
Uptime 99.99%
Multiple Data centers
Geographically redundant
Shorted release cycle
Managed Services ( SaaS)
Pay as you go ( Low Cost )
Reduced impact on internal IT resources
Scalability
Cons
More ISP Bandwidth
Limited Customizations
Possible Storage Costs
Recovery SLAs
No Server access
No matter which solution you decide on using: The one on premises or SharePoint Online, you need to make sure you backup your data. No matter where your data is, you need a backup.
One thing is for sure: it's much easier to backup cloud data using a third party solution which enables you to automatically backup your cloud data on a daily basis, and that is always accessible for you when you need it in case of data loss.