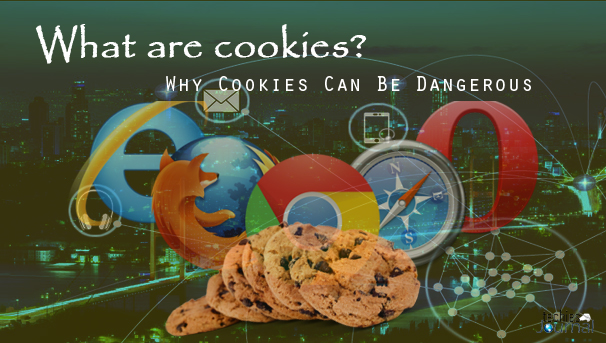 Cookies are essential to the modern Internet but a vulnerability to your privacy. Cookies are small files that contain information useful to a web site — such as password, preferences, browser, IP Address, date and time of visit, etc.
Data stored in a cookie is created by the server upon your connection. This data is labelled with an ID unique to you and your computer. Every time the user loads the website, the browser sends the cookie back to the server to notify the website of the user's previous activity.
Cookies often track information like how frequently the user visits, what are the times of visits, what banners have been clicked on, what button clicked, user preferences, items in the shopping cart, etc. This allows the site to present you with information customized to fit your needs.
While most cookies are perfectly safe, some can be used to track you without your consent. Worse, legitimate cookies can sometimes be spied upon if a criminal gets access.
Cookies are usually used to store information needed for shorter periods.
Why Cookies Can Be Dangerous
Since the data in cookies doesn't change, cookies themselves aren't harmful. They can't infect computers with viruses or other malware. However, some cyberattacks can hijack cookies and enable access to your browsing sessions.
First-party cookies are directly created by the website you are using. These are generally safer, as long as you are browsing reputable websites or ones that have not been compromised.
Third-party cookies are more troubling. They are generated by websites that are different from the web pages users are currently surfing, usually because they're linked to ads on that page.
Visiting a site with 5 ads may generate 5 cookies, even if users never click on those ads.
Third-party cookies let advertisers or analytics companies track an individual's browsing history across the web on any sites that contain their ads.
Consequently, the advertiser could determine that a user first searched for running apparel at a specific outdoor store before checking a particular sporting goods site and then a certain online sportswear boutique.
Zombie cookies are from a third-party and permanently installed on users' computers, even when they opt not to install cookies. They also reappear after they've been deleted. When zombie cookies first appeared, they were created from data stored in the Adobe Flash storage bin. They are sometimes called "flash cookies" and are extremely difficult to remove.
Like other third-party cookies, zombie cookies can be used by web analytics companies to track unique individuals' browsing histories. Websites may also use zombies to ban a specific user
Allowing or Removing Cookies
Cookies can be an optional part of your internet experience. If you choose, you can limit what cookies end up on your computer or mobile device. If you allow cookies, it will streamline your surfing. For some users, no cookies security risk is more important than a convenient internet experience.